Features Fluid Curve iron for Polti Vaporetto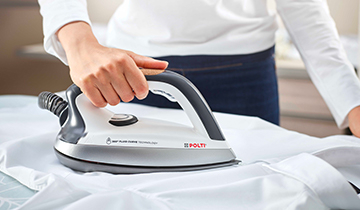 EASY IRONING WITHOUT EFFORT
Turn your steam cleaner into a practical and powerful iron with boiler. By connecting the Fluid Curve accessory iron exclusively to compatible models, you can perfectly iron any type of fabric eliminating the most difficult creases with the power of steam.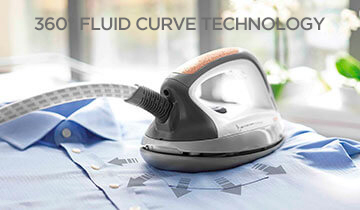 360 ° FLUID CURVE TECHNOLOGY
The innovative multidirectional curved soleplate with antiscratch coating allows perfect results in one pass. The high precision tip reaches difficult places and the concentration of steam in this area also smooths out difficult creases. The rounded edges for 360° ironing allow perfect smoothness without effort, easily navigating obstacles such as buttons, collars, pockets … The uniform distribution steam channels allow faster ironing for professional results in a very short time.
REFRESHING CLOTHES
Used in vertical mode, the Fluid Curve accessory iron is ideal for refreshing fabrics, removing creases and eliminating odours from clothes, upholstery and textiles, such as curtains and cushions. Effective on the most delicate and difficult to iron items such as lace, embroidery and pleated fabrics, but also on jackets and coats.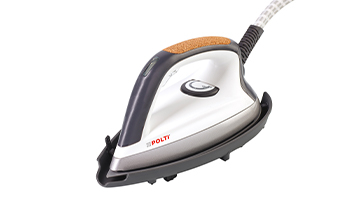 THE DIFFERENCE IS IN THE DETAIL
The handle's cork insert is breathable and ensures a comfortable grip when ironing. Moreover with the removable iron pad you can place the iron everywhere. Equipped with non-slip rubbers you can place it on the ironing board to have the iron always at your fingertips, for maximum comfort.
COMPATIBILITY
Compatible with Polti Sani System Business, Polti Cimex Eradicator and Vaporetto models: Pro 95_Turbo Flexi, Pro 90_Turbo, ECO Pro 3.0, Classic 65, Vaporetto Forever Exclusive, Vaporetto ECO PRO 3000, Vaporetto Evolution, Vaporetto Edition, Vaporetto 2085, and with all models fitted with a removable hose with connector as shown in the image.
Technical specifications Fluid Curve iron for Polti Vaporetto
Material

Alluminium

Sockette composition

360° FLUID CURVE TECHNOLOGY

Package dimensions (LxWxH)

28×19,5×16,5

Weight

1,3 KG

EAN

8007411012631

Product code

PFEU0035