Features Polti Sani System Gun for Vaporetto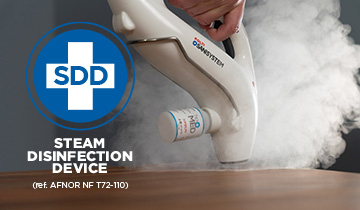 TESTED DISINFECTION EFFECTIVENESS
Polti Sani System Gun connected to compatible models** is a patented Steam Disinfection Device (SDD) compliant with the AFNOR NF T72-110 * standard – medical setting and has demonstrated virucidal, bactericidal, sporicidal, fungicidal, levurocidal and mouldicidal effects The patented Superheated Chamber technology generates superheated dry saturated steam up to 180°C inside the Polti Sani System Gun dispenser and kills up to 99.999%* of micro-organisms.
REACH ANY PLACE
The steam maintains a high outlet temperature and envelops the surface to be treated like a cloud. Disinfection therefore takes place without contact, reaching even the least accessible corners and reducing the risk of cross-infection.
REDUCES MICROBIAL AND VIRAL SURFACE CONTAMINATION
The use of the Polti Sani System Gun in both domestic and professional environments allows you to reduce the microbial and viral contamination present on surfaces. It is especially effective in areas with a higher bacterial or fungal load such as sanitary ware, kitchen worktops, table and surfaces. In domestic environments, as in professional ones (for example hotels, medical offices, beauty centres, where a higher frequency of disinfection is required due to the continuous passage of people) it allows you to disinfect any type of surface at any time..
490/5000 ALSO EFFECTIVE AGAINST DUST MITES AND ALLERGENS
After careful and thorough steam cleaning, the Polti Sani System Gun completes the disinfection of the environment even in case of specific needs such as allergies to dust mites. The high temperature 180° Polti Sani System Gun steam is able not only to drastically reduce live mites, but also to deactivate the allergens produced by them, guaranteeing an extraordinary decontaminating action..
SAY GOODBYE TO BAD SMELLS
HPMed is a detergent that can be mixed with steam inside the gun and is capable of performing an effective action in eliminating bad odours. It can be used in the presence of people and animals and does not damage surfaces and fabrics in any way.
HELPS PREVENT SEASONAL INFLUENZAS
The use of the Polti Sani System Gun enhances the already effective impact of steam cleaning because it can be used everywhere and at any time in cases where flu diseases are more problematic. The steam can act in a few seconds to reduce the microbial and viral contamination present on surfaces. It is therefore a solution that allows you to prevent the spread of flu viruses and reduce the risk of onset of diseases****.
COMPATIBILITY;
**Compatible with Polti Vaporetto Pro 95_Turbo Flexi, Polti Vaporetto Classic 65, Polti Vaporetto EcoPro 3.0.
*Tests and / or studies by third-party and independent laboratories certify that Polti Sani System kills up to 99.999% of microorganisms (viruses, germs, bacteria, fungi, spores and yeasts).
Accessories Polti Sani System Gun for Vaporetto
4 BOTTLES HPMed
Detergent that can reduce bad odours and can also be used in the presence of people and animals; 1 extra empty bottle and 10 wicks also supplied.
FLOW CONCENTRATORS
The flow concentrators are the tools for reaching the most difficult points
DISPENSER CLEANING BRUSH
Brass brush for cleaning the steam nozzle.
DISINFECTION PROTOCOL
Quick disinfection guide for the correct use of the appliance
BAG
Practical bag to hold the gun and all the accessories.
Technical specifications Polti Sani System Gun for Vaporetto
EAN

8007411804670

Product code

PAEU0367