Features Steam Cleaning Kit PAEU0269
FLOORS AND CARPETS CLEANED AND SANITISED WITHOUT DETERGENTS
With the floor brush you can clean and sanitise floors, tiles, marble, parquet, fitted carpets and rugs and all the larger surfaces in the home. Can be used in combination with the floor cloth and lets you clean both hard and delicate floors; in addition, being provided with bristles, it ensures maximum cleaning effectiveness.
CLEAN, SMEAR-FREE WINDOWS AND MIRRORS.
With the window cleaning accessory, complete with a bristle insert and a rubber insert, you can clean windows, mirrors and other smooth surfaces without leaving any smears or streaks, and they stay clean longer. Saving cost since you don't need any more detergents.
DEEP CLEANING OF TEXTILES AND SMALL AREAS
The small brush, used alone or with the sockette that collects the dirt, is designed for cleaning small surfaces and lets you treat furnishing fabrics, velvets and leathers (remotely), car interiors, windscreens, tiles, doors, cabinets doors and other small surfaces with steam.
MAXIMUM HYGIENE IN THE BATHROOM AND KITCHEN
Steam reaches even the most difficult corners; with the concentrator accessory fitted with a round nylon brush, it is possible to sanitise bathroom fixtures, hobs, inside the refrigerator and above all the grouting between tiles.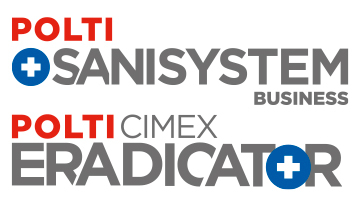 COMPATIBILITY
Compatible with Polti Sani System Business and Polti Cimex Eradicator
Technical specifications Steam Cleaning Kit PAEU0269
Package dimensions (LxWxH)

39 x 39 x 20 cm

Weight

3 kg

Product code

PAEU0269