The evolution of cleanliness:
immediate, practical and quick.
Polti Moppy: the new experience of cleanliness
Sanitise without detergents with the hot steam-charged cloth.
Polti Moppy makes daily cleaning easy and fun: enjoy the new experience of cleanliness in one pass
Polti Moppy washes and cleans all types of floors without detergent with the hot steam – charged cloth; it removes dirt and eliminates 99.9% of germs and bacteria. *
Polti Moppy also cleans all steam washable vertical surfaces (doors, cupboard doors, tiled walls) using the microfiber cloth which easily collects dirt; Furthermore, using the electrostatic cloths, Moppy is an efficient ally to remove and capture dust.
Polti Moppy is immediate, practical and quick: the charging and sanitizing steam base is ready in a few seconds while the cordless ultralight mop, agile and slim, reaches even the most difficult places, with maximum freedom of movement.
With Polti Moppy you save time, effort and money.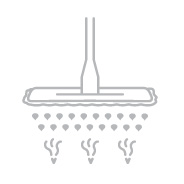 CLEANS AND SANITISES WITH THE HOT STEAM-CHARGED CLOTH
REMOVES AND ELIMINATES 99.9%* OF VIRUSES, GERMS AND BACTERIA
CLEANS WITHOUT CHEMICALS
DRIES SURFACES IMMEDIATELY WITH NO STREAKS
CORDLESS
Polti Moppy: 5 easy steps
Polti Moppy has two parts: a recharging base to steam and sanitize the cloth and a cordless mop to clean all surfaces.
The new cleaning experience with Polti Moppy is easy and intuitive: just 5 easy steps to clean and sanitise:
fill the tank in the base with tap water
steam the cloth on the base
clean the surface with the hot microfiber cloth that easily removes and retains dirt and bacteria
reach even the most inaccessible corners
steam the cloth again and kill 99.9%* of germs and bacteria
Polti Moppy: the evolution of cleanliness
Polti Moppy is the evolution of cleanliness in terms of practicality and technology. Finally you can throw away your antiquated and uncomfortable cleaning tools: forget the heavy buckets, the water splashes, hard mops, wet hands and rags to squeeze.
Polti Moppy is your ally for daily cleaning: compact, practical and quick. The ultralight and agile mop makes movement easy, the microfibre cloths clean surfaces without streaks, the cloth's fast application and removal system keeps your hands clean and dry.
Double effectiveness, tested and certified
Polti Moppy guarantees a dual result of hygienic removal and elimination.
The hot microfiber steam–charged cloth retains dirt, germs and bacteria from all surfaces. A specific laboratory test certified that even at the first pass, Polti Moppy removes 99.9%* of particles present on the surface.
Returning the cordless mop to the charging base you will sanitize the cloth, eliminating the microorganisms collected from the surface; another laboratory test has confirmed that with the cloth vaporization Polti Moppy eliminates 99.9%* of germs and bacteria.
Protect the environment and your family with Polti Moppy
Polti Moppy is the smart and ecological choice to clean and sanitize easily with the natural effectiveness of steam, which kills 99.9%* of germs and bacteria.
Using Polti Moppy you choose to eliminate chemical cleaning agents that damage the environment and that can leave traces on household surfaces.
Compared to the traditional cleaning systems " bucket + rag ", with Polti Moppy the water consumption is considerably reduced: with a water refill of just 0.7 l and a small electricity consumption, you can clean up to 250 square meters.
Polti Moppy guarantees greater protection of the environment, waste reduction, a sustainable future for your family.
Italian innovation and creativity
Polti Moppy is a product designed and manufactured in Italy, assembled at the historic production site at Bulgarograsso, in Como province. Polti Moppy is the outcome of an innovative idea and years of study and technical development that have contributed to the achievement of this innovative patented product.
* Polti Moppy has been tested on the most common bacteria such as Escherichia coli, Enterococcus faecalis, Pseudomonas aeruginosa, Salmonella enterica, Aspergillus brasiliensis. It removes 99.9% of viruses, germs and bacteria from surfaces in one pass and retains them, also eliminates 99.9% of viruses, germs and bacteria from the cloth whilst steaming on the charging base.